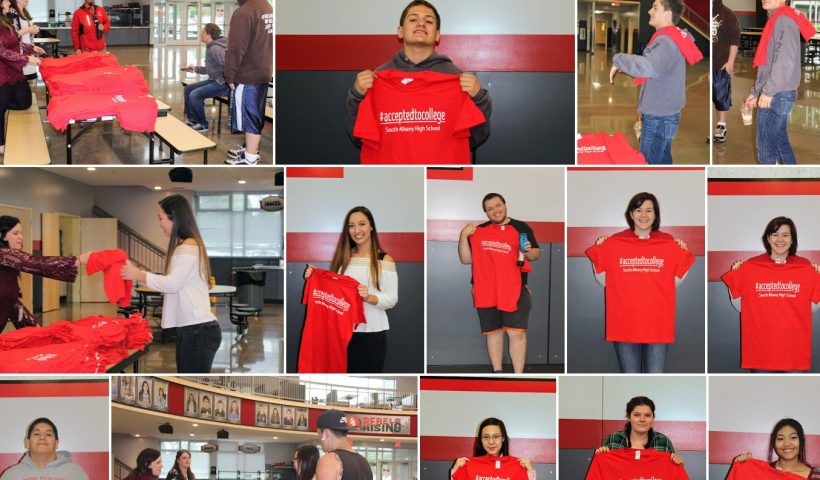 Yesterday, South Albany High School celebrated students who have signed letters of intent for college acceptances.
During lunch, the following students signed their letters during a National Letter of Intent ceremony. After they signed, they earned a school t-shirt signifying their acceptance to college. The recognition was not limited just to student athletes. Any student with a college acceptance letter could trade their letter in for a #acceptedtocollege t-shirt.
Congratulations to the following students:
Annie Taylor – Cross Country, Lane CC
Armondo Arreola – Soccer, Oregon Institute of Technology
Austin Mendoza – Soccer, Lane CC
Bishop Burns – Cross Country, Lane CC
Elileigh Wuerst – Track, Lane CC
Gunner Teem – Football, College of the Siskiyous
Bradley Johnson – Track, Oregon Institute of Technology
Chandler Villarreal – Wrestling, Southwestern Oregon CC
Gustavo Salas – Soccer, Walla Walla CC
Jake Costello – Basketball, Walla Walla CC
Jasmine Alejandre – Soccer, Multnomah University
Joey Barrientos – Soccer, Chemeketa CC
Jose Torres–  Soccer, Lane CC
Keyanie Guyette – Track, Southern Oregon University
Logan Whittaker – Track, Montana State University
Madeline Trippett – Volleyball, Southwestern Oregon CC
Marco Reyes – Soccer, Corbin University
Preston Mayer – Football, Willamette University
Taylor Marshall – Soccer, Rogue CC
Tyler Miller – Cross Country, Southern Oregon University
Wyatt Marsh – Soccer, Corbin University
Note:  Katie Mayhue signed her National Letter of Intent earlier this winter.