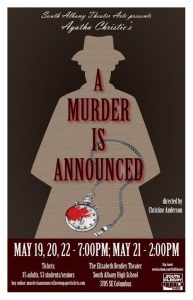 SAHS Theater Arts Presents Agatha Christie's A Murder is Announced.
An announcement in the local paper states the time and place when a murder is to occur in Miss Blacklock's Victorian house. What follows is a classic Christie puzzle of mixed motives, concealed identities, a second death, a determined Inspector grimly following the twists and turns, and Miss Marple on hand to provide the final solution at some risk to herself in a dramatic confrontation just before the final curtain.
Performances are May 19, 20, and 22 at 7pm with a special matinee presentation May 21 at 2pm.
Tickets are $5 for adults and $3 for students/seniors and are available at the door or can be purchased in advance online (the online ticket provider charges a small additional processing fee).
Tickets available online at murderisannounced.brownpapertickets.com